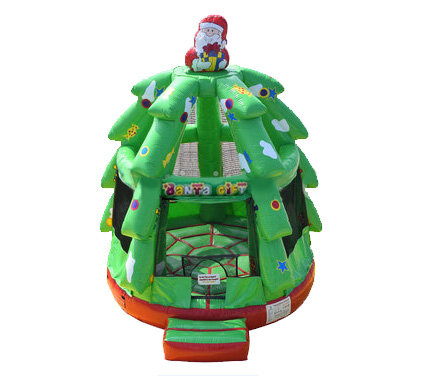 Christmas Tree Bounce House
Short of Christmas tree in Florida? What could be better than having a Christmas Tree Bounce House where your kids can get their gifts and play with the tree too? Premier Inflatables LLC brings you a Christmas tree bounce house to fill that missing but important part. Christmas trees are the center of all the activities and the celebrations are incomplete without them.
Get our Christmas tree bounce house to complete your Xmas joys.
Jingle Bell All the Way for the Xmas themed Bounce House
Hosting a Christmas bash for your friends and coworkers, or just wanting an intimate festival celebration with your family and kids –there's no better excuse to enjoy this epic event to the full. An Xmas themed bounce house can double the enjoyment in a budget.
Order it through Ocala Premier Inflatables LLC –the most affordable bounce house rentals and get it delivered to your house within no time. It's fun, it's compact, and it's in your budget, what else do you want?
A perfect addition to your winter fun
Christmas tree bounce house is available at Ocala bounce rentals. It is amazing when you want fun and your theme to be combined. Must order to cater to all kid's imaginative parties. You will love to have it at your parties. Order it now.